Franchise Overview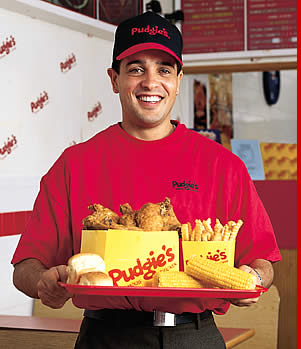 Pudgie's Famous Chicken's signature product is bone-in chicken that has been fried in oil that contains zero grams of trans fat per serving. Pudgie's proprietary process of preparing their chicken includes such steps as removing the skin and breading their product by hand. By eliminating the skin, Pudgie's Famous Chicken is able to address consumers' growing desire for a healthier option, making their chicken 25% lower in fat and cholesterol than traditional fried chicken. Units are primarily home delivery and pick ups.
Founded in 1981 in the community of Bethpage, New York, George Sanders developed his secret batter recipe and skinning process. The concept quickly spread throughout Long Island and by 1989 had become a franchise company, with units opened in 10 states. PAT Franchise Systems, Inc. acquired the company in 2002 and TRUFOODS, LLC became the franchisor in 2007.
Today, Pudgie's Famous Chicken has a strong regional presence with several locations concentrated in the New York metropolitan area. Their success has been based on their ability to reduce cost, lower-cost procurement and improve the overall management of the brand. The introduction of more "portable" skinless chicken products such as chicken tenders and sandwiches has made the concept viable and broadened appeal, increasing customer traffic.